About This Fundraiser
Jubilee Church is an inter-denominational, inter-cultural church serving the English-speaking communities in Korea for the purpose of world missions. Our vision is to be a hub for missions.
This team is open to anyone that attends or has ever been attended Jubilee. God has opened doors to NK through many different ministries at Jubilee. I pray that we will also be able to financially support kingdom work in NK.
For more information, visit www.myjubileechurch.com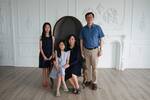 Hello friends,
My name is Jamie Kim. As the director of Reah International, my desire is bring many talented, skilled, and integrous Christian professionals to the Region of North East Asia.
The word for me in 2021 is from Haggai 2:9 "The glory of this present house will be greater than the glory of the former house.' 'And in this place I will grant peace,' declares the Lord Almighty." I believe that God desires to restore the health of the Church and for her to reflect the glory of God.
For this year, I will focus on preparing the the Church to be more healthy and mature. More than action, I want to pray and seek the Lord on what this will look like going forward. We appreciate many of you who stand with us through your prayer and financial support. Thank you.